[Are you looking for Dr. David Greenfield's work as a tech & video game expert? Please visit Virtual-Addiction.com to learn more about the Center for Internet and Technology Addiction.]
Compassion blended with a direct, solution-focused approach with twenty-eight years of clinical experience....Holistic Orientation: dealing with mind, body, and spirit.
Offering quality care and cutting edge treatments in psychology, addictions, marital counseling, EMDR, and intensive out-patient programs to help you with a variety of life's challenges.
Dr. Greenfield is rated the NUMBER 1 (out of 74) Psychologist in West Hartford, CT (RateMDs).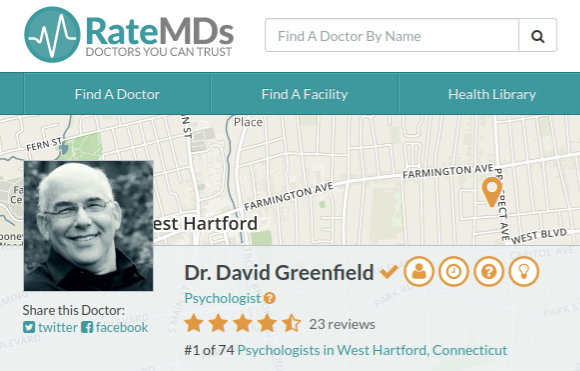 REACH OUT
Make an appointment with Dr. David Greenfield: the top-rated psychologist in West Hartford, known for his compassion and holistic orientation. Email Office@DrDavidGreenfield.com or CALL US at 860-561-8727 Ext.4.
Dr. David Greenfield is an internationally-recognized expert with tech & video game addiction.  He also blogs for the Huffington Post and Psychology Today. If you are looking for this information, please visit Virtual-Addiction.com


Voted 2015's best
Psychologist in West Hartford for Psychology treatment and services as reviewed by patients.
Verified by Opencare.com
Assistant Clinical Professor of Psychiatry, University of Connecticut School of Medicine
Licensed Psychologist – Doctor in Psychology (CT & NY)
Licensed Marriage & Family Therapist
Board Certified in the Treatment of Addictions
Heiser Presidential Award for Professional Psychology Advocacy
Outstanding Contribution to the Practice of Psychology in Connecticut Award
Advanced post-doctoral training in clinical psychopharmacology
Click to read the positive feedback from Dr. Greenfield's patients.